Sean Campbell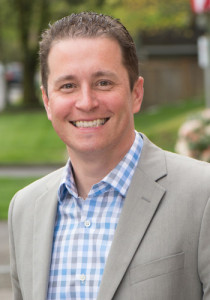 Sean Campbell is the CEO of Cascade Insights, a competitive intelligence and market research firm for B2B technology companies. A 20-year technology veteran, Sean establishes the company's strategy, drives the company's thought leadership efforts and maintains relationships with key clients.
A popular speaker, Sean has discussed B2B competitive intelligence at over 250 events around the globe. He has lectured at MIT's Sloan Management School, presented at worldwide Strategic Competitive Intelligence Professionals conferences and shared his knowledge at many other events.
Sean has written three physical books and two ebooks, most recently the 6th edition of Going Beyond Google. He hosts the popular B2B Revealed podcast, now with more than 100 episodes on methodology, B2B tech, and interviews with thought leaders.
Sean is based in Portland, OR and can be contacted at sean@cascadeinsights.com.
Accolades & Past Speaking Engagements
Accolades
"The WTIA brought Sean in to speak at a marketing community group on the subject of Competitive Intelligence. I attend countless events and listen to many speakers across the board, and have to give Sean remarkably high ratings. The content was eye-opening and the his delivery and command of the room was extremely strong. I highly recommend Sean as a professional speaker and expert in his discipline."
"Sean is a real thought leader in the competitive intelligence space. He presented a very highly praised webinar for the SVAMA on this topic. We received fantastic feedback from our members. I can highly recommend Sean as a speaker."
"Sean guest lectured a class on competitive intelligence to a MBA marketing course that I normally teach. He is a dynamic and audience-interactive speaker who has refined the art of engaging listeners with a practical story-telling style. The students highly appreciated his sharing the techniques of his craft, imbued with the readily apparent credibility of deep experience."
"To a group of product management professionals, Sean Campbell of Cascade Insights presented a thorough and compelling overview of competitive intelligence methodology and research tactics. His fast-paced talk kept the audience engaged and laughing. Sean possesses a tremendous ability to cover a great breadth of information while still going deep enough to leave his audience satisfied and feeling they've learned something. I strongly recommend Sean as an expert speaker on competitive intelligence."
"I enlisted the help of Cascade Insights to provide training in CI fundamentals, frameworks, and methodologies. While the training was only 2 days in length, Sean thoroughly covered all the topics with time built in for team activities that further reinforced what we learned. After the training, the team raved about all the new tools they wanted to use and ideas to incorporate into their existing projects. In fact, they have already begun introducing concepts learned in this training into their day-to-day activities. I highly recommend Cascade Insights for any CI manager looking to quickly train new CI professionals or for any team looking to refresh their existing CI knowledge. Sean is very professional and knowledgeable in this field and can really help any CI team (regardless of experience) move to the next level."
"Sean provided a fantastic workshop for the Silicon Valley Product Managers Association. He was remarkable. His presentation was top-notch and although there was a lot of detail and technical content, he captured our attention and motivated the audience to apply his approach and teachings. In-fact still use his techniques almost exclusively in searching out the competition and doing research on companies I want to partner with. I would highly recommend Sean both as a presenter and consultant. He will jump-start your sales, marketing and business development people and activities. You will not be disappointed."
"I needed some assistance in driving CI awareness in my company. I worked with Sean to develop a high level agenda. He then came on-site and delivered an outstanding training to a multi-disciplined audience (tough crowd). Sean did more to help drive home the need for CI in our org in 1 day than I could have done in 1 year by myself."
"Riveting speaker with a compelling, cutting edge command of competitive intelligence research willing to share his insights."
"Our Executive Board hired Sean to speak at our SLA Texas Chapter Fall meeting in Dallas on the topic "Going Beyond Google." We had rave reviews from the audience and very positive comments from the attendees such as "Sean Campbell's presentation was the most relevant to my work. His presentation was fabulous." Another participant said, "Ask him back!" Sean's presentation was on point and was essential to any information professional, regardless of industry. He did an excellent job at presenting the materials in an organized and well-balanced manner."
"Sean Campbell is a compelling presenter, dynamic collaborator and endless resource."
Past CI Speaking Engagements
Association for International Product Marketing Managers – AIPMM
American Marketing Association – AMA
Beers Networking Executive Group
Beyond B School
Business Marketing Association
Information Communication Technology Society of Manitoba – ICTAM
Institute of Management Consultants – IMC
Investigative Reporters and Editors – IRE
Marketing Profs
Marketing Research Association – MRA
Market Research and Intelligence Association – MRIA
MIT's – Sloan Management School
Northwestern University
Product Camp – Chicago
Product Camp – Silicon Valley
Public Relations Society of America – PRSA
Puget Sound Research Forum – PSRA
Qualitative Research Consultants Association – QRCA
Strategic and Competitive Intelligence – US Conferences
Strategic and Competitive Intelligence – Asia Conferences
Strategic and Competitive Intelligence – European Conferences
Society of Insurance Research – SIR
Special Libraries Association – SLA
Software CEO
Silicon Valley Product Management Association – SVPMA
Technology Association of Georgia
United Kingdom – UKCIF
University of Willamette
University of Alberta
Washington Technology Association – WTIA
Arizona State's – Walter Cronkite School of Journalism
Willamette University's – Atkinson Management School
Young Professionals Association – Alberta
If you would like to have a representative from Cascade Insights speak at your next event, contact us to learn more about our competitive intelligence presentations and training workshops.