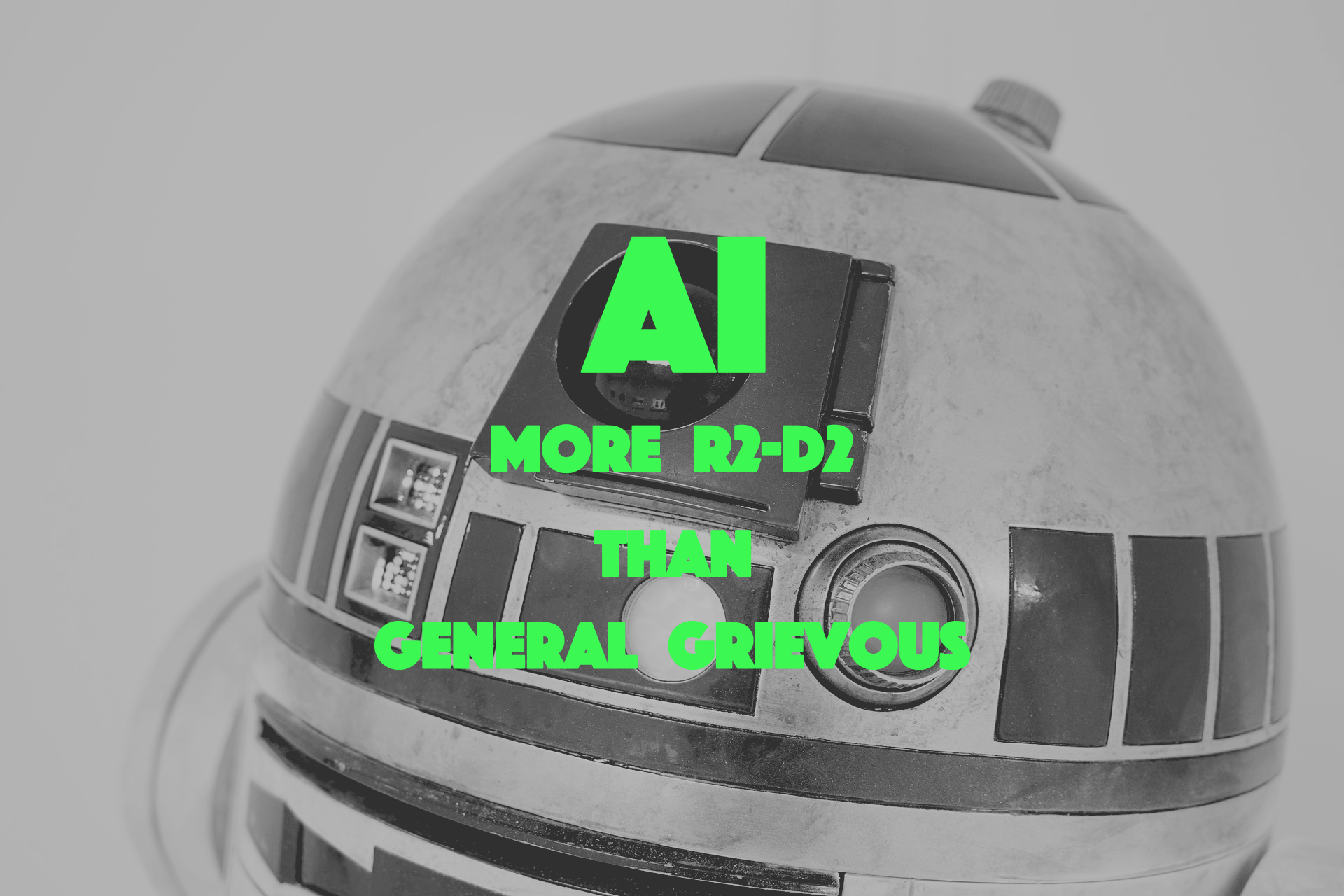 AI: More R2-D2 Than General Grievous
What are the most cutting-edge applications of AI for B2B market research? How much busywork can analysts delegate to a bot? Will automated systems replace the need for human analysis?
We (virtually) sent our analysts to the 2017 QRCA Mini-Conference on Artificial Intelligence to find out.
Here are their key takeaways.
Synchronizing AI With Meaningful B2B Market Research
 By Philippe Boutros, Senior Research Analyst
NLP + Open-Ended Survey Responses = (Slightly) Less Frustration. 
The "Other (please specify)" box is the bane of market researchers.
The sheer volume of responses can overwhelm even the most dedicated analysts. Unfortunately, valuable insights get lost along the way.

AI has a practical application here. It can segment, group, and summarize different types of responses. This saves researchers a lot of time and energy.
However, artificial intelligence can't understand a study's corpus of text with the same context as a (human) trained researcher.
Dear Chatbot, Today I Meaningfully Participated In A Study…
Diaries are valuable ways for qualitative researchers to learn how their users think.
Historically, diaries have had their issues. Problems such as user churn, low-value participation, and researchers getting over-involved have been obstacles.
Luckily, chatbots powered by simplistic AIs can remove much of the burden from researchers. These chatbots ask the right questions at the right time and keep users engaged throughout.
AI Gets A Higher EQ 
By Hercules Randolph, Research Analyst 
How Am I Feeling, AI? 
Obviously, qualitative research requires an interpretation of interviewees' feelings. But, with this interpretation comes bias. Consequently, stakeholders are asking for more and more supplemental quantitative data to provide unbiased context.

AI may help eliminate human bias in sentiment analysis. (Though it's debatable whether machine learning has made AI immune to developers' biases.)
Rising AI platforms can identify patterns in language including emotions, trends, and also positive vs. negative framing. Further, AI can make inferences from passive language, pronouns, and aggressive language.
When considering the application of AI sentiment analysis to B2B market research, it's important to note that you will get what you put in. Meaning, faulty data leads to bad analysis. Be careful not to stray far from the discussion guide, use poor recordings, etc.
AI Helps Rather Than Replaces Human Research Analysts
By Colleen Clancy, Senior Research Analyst
Ramp Up Mass Qual With Chatbots. 
Chatbots are increasingly effective at managing outreach, scheduling, and participant diaries. This makes it easier to process a high volume of respondents. It also frees up your time to focus on research elements that require human analysis.
Bots & Analysts Can Be Market Research Friends. 

AI currently supports but does not replace the need for human analysis in B2B market research.
The tools described in this conference have specific applications that could prove very useful to market research analysts.
For example, moderators can now use AI platforms to inform the direction of in-depth interviews in real-time. AI isn't yet ready to conduct an in-depth interview on its own though.
Eventually, AI might drive these surveys and the analysis that follows much further. However, the day that B2B market research doesn't rely on human analysis is still a long way out.
This blog post is brought to you by Cascade Insights.
Get in touch
"*" indicates required fields