SaaS Messaging and Positioning: Successful vs. Struggling
Consider the last SaaS company's website that you read while checking out a potential new solution. How was the company positioning itself in the marketplace? Was the messaging clear and concise, or was it hard to understand? Did it target your specific role and address your jobs-to-be-done (JTBD)?

Unfortunately, if the messaging was like so many other SaaS companies, you may have seen some cryptic value props, differentiators that weren't actually differentiated, and confusing messaging that was not targeted toward any specific persona.
Now consider your own company's website. Is it possible potential buyers experience any of the same issues with your messaging?
As a way to test it out, we put together a mini guide for you to follow that hits on the key components of successful SaaS messaging and positioning. We include examples of companies that have excelled in these areas and others that have missed the mark. By the end of the post, you will have gained a clearer understanding of what constitutes great SaaS messaging – and what you can do to improve your own.
The Key Components of Successful (vs. Struggling) SaaS Messaging
As a company that develops messaging frameworks and campaigns for B2B technology companies, we have extensive experience evaluating messaging from SaaS companies.
When assessing the effectiveness of each SaaS company's messaging, we will often consider:
How effectively is the organization addressing its ICP?
Are they clearly communicating their key value propositions and differentiators?
How robust are their content marketing assets?
How intuitively do they communicate and organize their service offerings?
Next, we'll dive deeper into how companies can focus on these four areas to build great messaging and effective positioning. Along the way, we show examples of companies that have (and have not) done so effectively.
ICPs: The Crucial Foundation of SaaS Messaging
The first step toward delivering a message that will resonate is to ensure you are speaking to the right person. If you're trying to speak too broadly, or to someone in the wrong industry or role, you have already missed the mark.
Before beginning to craft any message, first consider what your Ideal Customer Profile (ICP) should be. Who is the primary person that you want to target with your messaging? What is their job title and the kinds of jobs they might need a product to perform? What are their concerns, motivators, and pain points?
Your ICP should also include target industries and company sizes that your solution will best serve. This may include explicitly stating who you do not work with. Although it may feel counterintuitive, being upfront about your solution's limitations to particular audiences – and who it will not benefit – actually builds trust with buyers. Furthermore, stating your limitations upfront allows you to be in control of your message, rather than letting your competitors communicate it for you.
ICP Components
As a whole, a robust ICP should typically include the following:
Firmographics – What is the company size, industry, and location that you should target? These core details allow you to focus on the businesses that a solution best fits.
Value drivers – What matters most to the customer? Cost savings? Integrations? Identifying the motivations of buyers allows you to focus on the messaging that will actually resonate with that persona.
Budget – Ultimately cost always matters. Gauging this allows you to avoid targeting out-of-budget buyers.
Buying process – Who are the key players involved and what stages do they typically go through in the decision-making process? Mapping these out provides you with a more comprehensive view of the complete buyer journey.
Challenges – What obstacles does your customer face? Identifying these gives you to directly address these concerns.
Goals – What are your customer's business objectives and desired outcomes? These should connect back to the value your solution provides.
Behavioral data – What tech stack does this persona typically use? Knowing which software and technologies they typically use, and how they are using them, can help complete their technographic profile.
Below are two examples of how SaaS companies are communicating to their ICP on their websites– one is doing so successfully, and another one is struggling.
Successful
Scheduling software company Calendly displays their solutions by both industry and role. This allows buyers to see how this service can benefit them specific to their industry, as well as address their day-to-day duties, concerns, pain points, and more.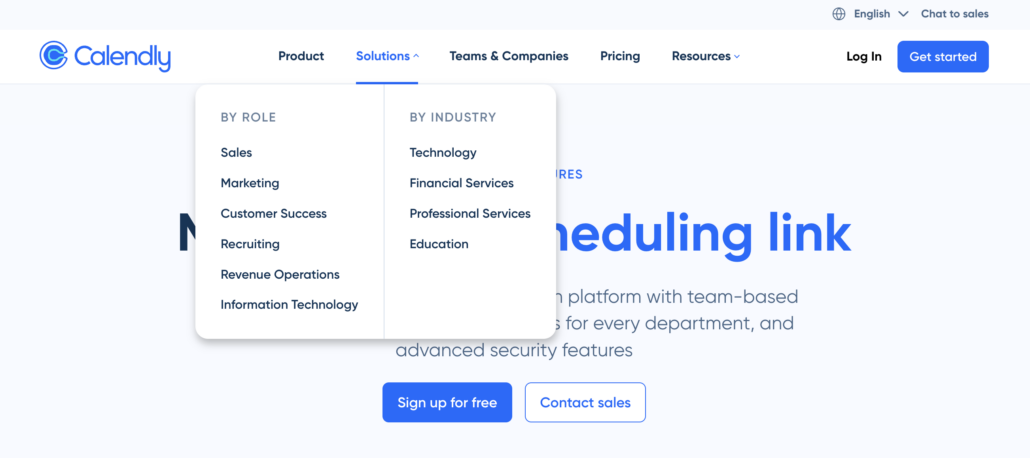 Struggling
By contrast, the platform Acuity Scheduling offers no segmentation by job function, industry, or company size. That makes it hard for potential buyers to understand quickly if this is a good fit for them, and if it can address their specific needs.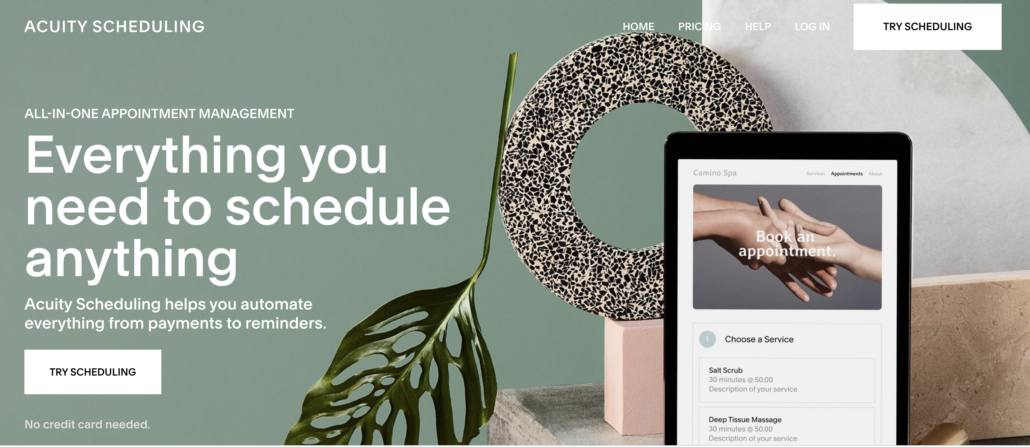 The Power of Positioning: Are You Providing Value?
After defining your ICP, the next step is to craft the positioning and messaging strategy that clearly communicates the value that your solution will provide.
What are the primary concerns that your solution will help to address? How will it alleviate their problems? How will it help them in a way that's different from any other solution that's available? These are the types of questions your readers are truly wondering when they read your website.
"More than anything else, your writing needs to be valuable. Because if it's not that, nothing else matters. It makes zero difference. If your writing is clear and useless, it's still useless. If it's organized and useless, it's useless. If it's persuasive and useless, it's useless." – Larry McErney
Rather than just communicating who your company is and what they do, your website's messaging should instead focus primarily on the value that your solution will provide to potential customers. The website should clearly communicate the solution's:
Value Props: These are the key benefits that your solution offers to customers. They should be clear, concise, and easy to understand. For example, one of Salesforce's value props is that their CRM "empowers sales teams to boost sales productivity and drive revenue growth." Clearly stating these benefits actively shows buyers the value that this solution will bring them.
Differentiators: These are the features or benefits that make your solution unique compared to the competition. For example, one of Slack's key differentiators is its ability to provide seamless integration with various third-party apps and services; it offers an extensive library of integrations with popular business tools, such as Google Drive, Trello, Jira, Salesforce, Asana, and more. It also provides developers with an open API and tools to build custom integrations to a team's specific needs. These extensive integration capabilities differentiate Slack, allowing them to become a central hub for their customers' communication and workflow.
Successful
Website hosting and building company Webflow does a great job of clearly communicating its main value prop front and center on its website. It's easy for users to quickly and succinctly understand the main benefits of working with this company.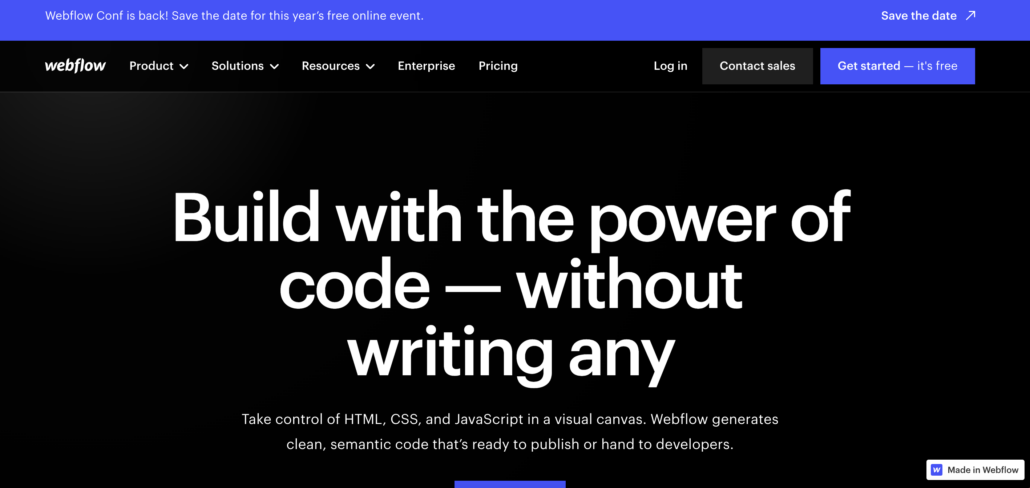 Once the reader's attention has been captured, they can continue reading on for more specific benefits such as "go live faster" and "improve your KPIs" with case studies backing up their claims with proof points and statistics.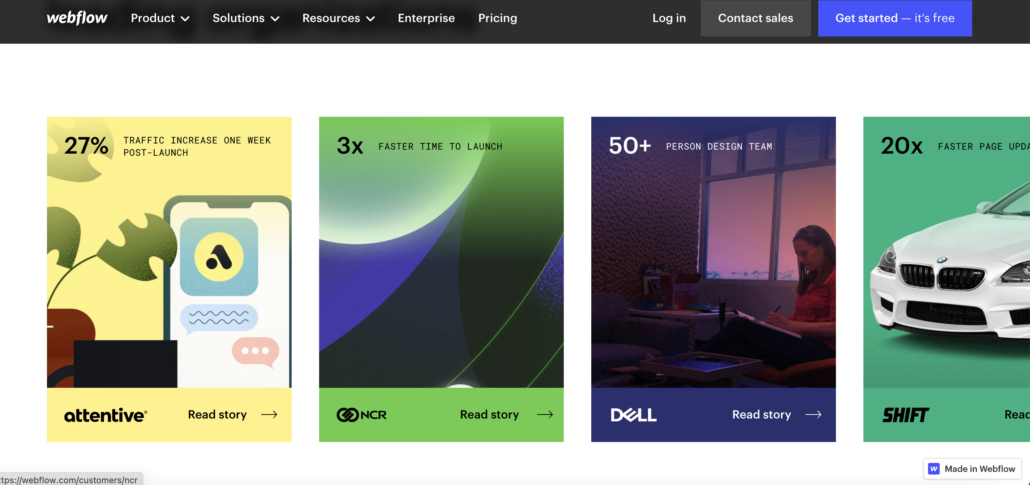 Struggling
Web content management system WordPress, on the other hand, focuses more on who they are as a company – rather than the value they can provide their users. By choosing to highlight simply that they are the most popular website-building tool, they are neglecting to convey to their audience the ways in which WordPress can benefit them.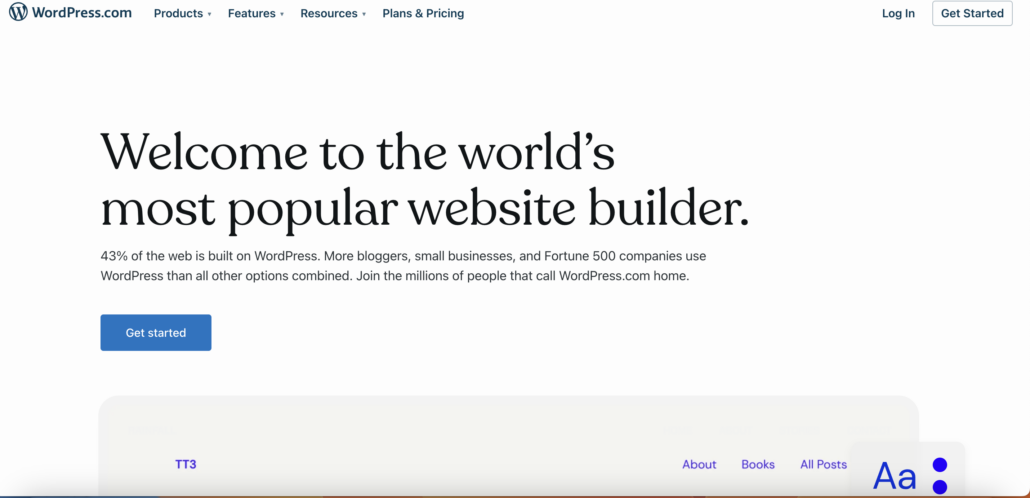 SaaS Content Marketing: Build SEO (and Buyer Trust)
Content marketing plays a crucial role in building out your company's SEO strategy. Creating relevant and keyword-rich content helps your company to rank higher in search engine results, allowing for more potential customers to discover your website.
Once a prospect visits your website, the content marketing resources that live there can also be a useful way to keep them engaged and stay longer. Whether it be through case studies, blogs, whitepapers, videos, webinars, infographics or another asset, this type of content offers potential customers interesting and thought-provoking material to peruse as they look around your site.
High-quality content marketing can also build trust and credibility among prospective buyers. By creating content that rises to the level of thought leadership, companies can actually elevate themselves even further to be viewed as trusted leaders within their industry.
Successful
Email marketing company Woodpecker offers a robust educational section that includes guides, ebooks, webinars, and more. These resources provide Woodpecker's visitors with valuable information and help them to learn more about how to create great email campaigns.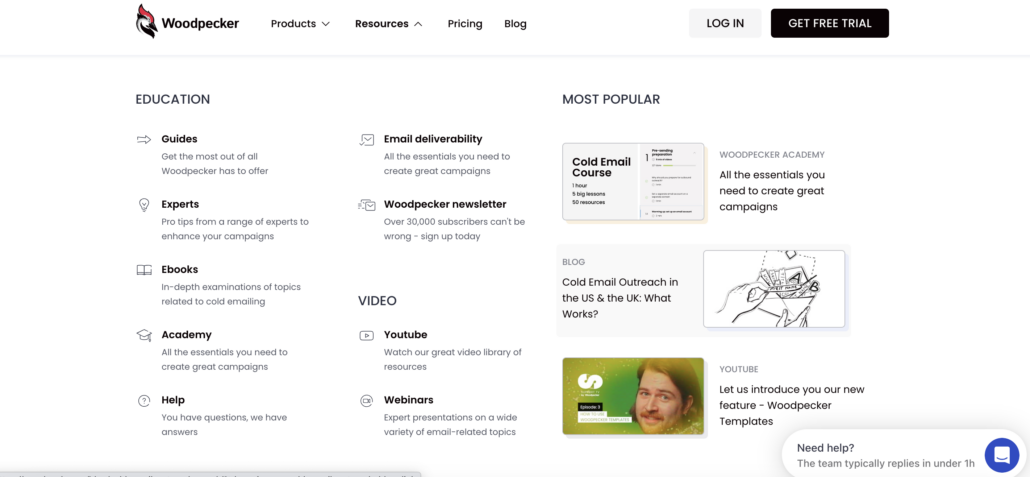 Struggling
Email unsubscribe app Clean Email doesn't offer any articles, blogs, or other educational resources for their readers. Not only is this hurting them from showing up in search rankings, it also limits the trust that they could build with potential buyers. They are missing a big opportunity to show how they understand the space and the issues that are most pertinent to their audience.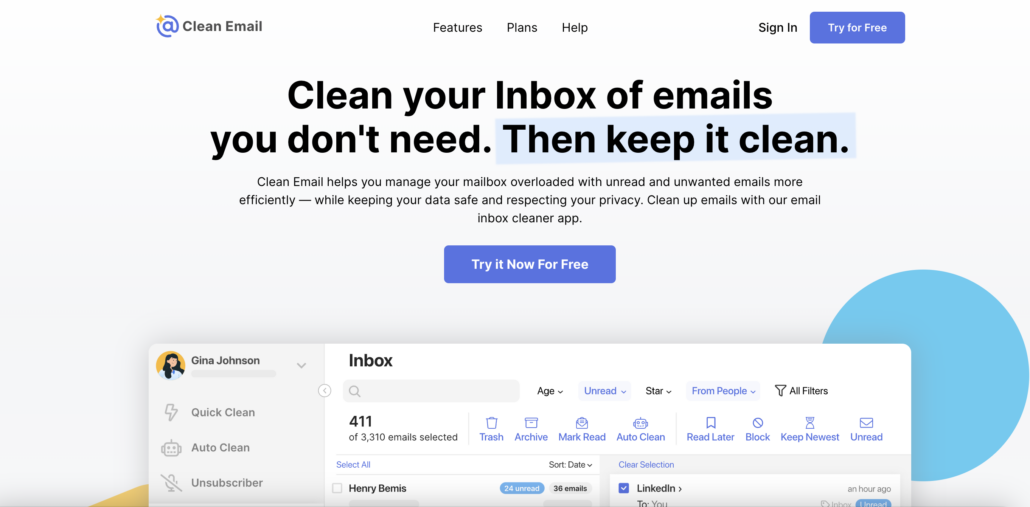 SaaS Service Offerings: Organize Intuitively
While shopping around for a new solution, it can overwhelming for potential buyers to read through a multitude of vendors' websites in an attempt to quickly develop a list of potential vendors. Given every competitive landscape tends to be crowded, SaaS company need to convey this information clearly and succinctly to their buyers and prospects.
SaaS companies should first consider how they'd like to categorize their offerings. Does it make sense to have a section just for product lines, and another section for services? Should certain offerings be bundled together as specific solutions? Remember to focus only on the most important categories that are crucial to include, and leave out the ones that are not essential.
Once the categories have been determined and grouped together in a logical way, they should be displayed into the main navigation bar in a way that is clear, intuitive, and easy to use. Links on the navigation bar should be to distinct webpages dedicated to each specific product, service, or solution. This is where more detailed and comprehensive information can be found about the features, benefits, unique selling points, and more.
If you have multiple products within a category or variations of a service, you may also consider creating a feature comparison page. This can help users understand the differences between your offerings and make informed decisions about which one best suits their needs.
Successful
Intelligent automation company Roboyo is well-organized and intuitive. No matter which way a potential buyer is thinking about their business challenge, Roboyo can guide them to the information that would be of most use to them.
The distinct web pages linked from the navigation bar offer robust information that details that a potential buyer would need to know.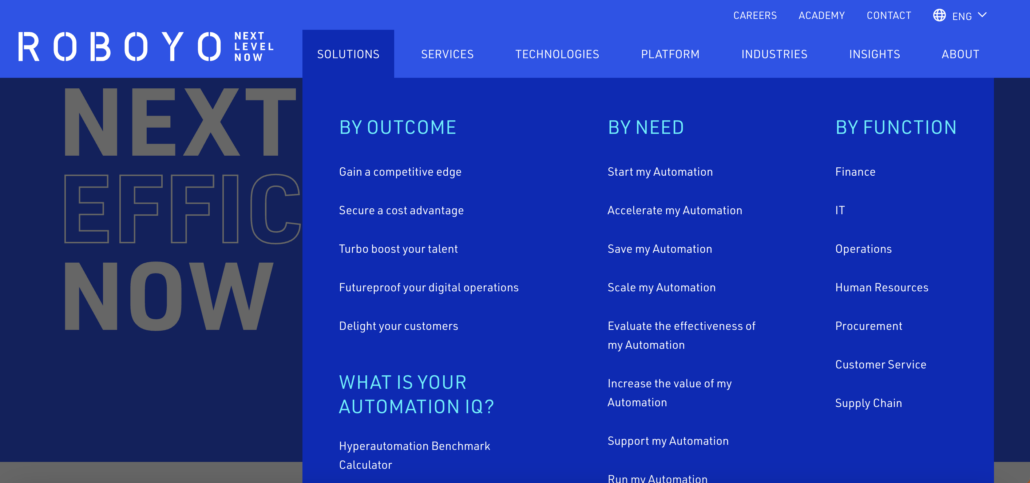 Struggling
By contrast, automation company Robiquity's navigation bar isn't organized in a way that most people would expect. There aren't any menu items for solutions, services, products, etc. This makes it difficult for a user to get a high-level overview of what's offered. With that crucial piece of information missing, it's hard for a user to know where to go first to learn about how the solution can work for them.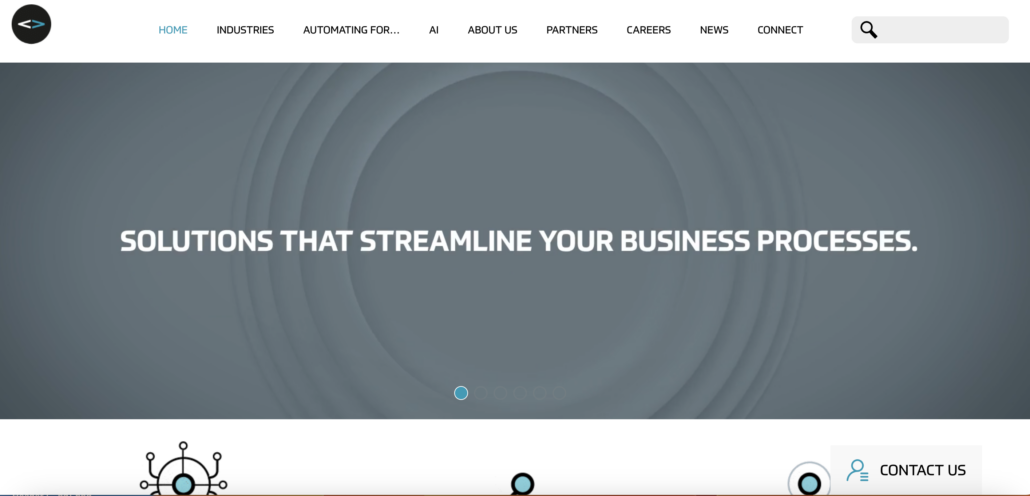 Superior SaaS Messaging: It Leads to Leads
The ultimate goal of any SaaS company's website is to capture the attention of prospects and inspire them to reach out. An effective website leads to leads.
In order to get there, however, you first need to ensure the messaging on your site is superior (vs. struggling) compared to your competition.
Give your company's website a fair assessment by asking yourself if your company measures up to the criteria above. If you find that your messaging resembles more of the struggling examples than the successful ones, then give us a call. With more than 15 years of experience testing and developing messaging for B2B tech companies, we have the expertise to elevate you above the crowd.
---
Cascade Insights is a hybrid market research and marketing firm that specializes in the B2B tech sector. Want to learn more about successful SaaS messaging? Our B2B Messaging services can help.
Get in touch
"*" indicates required fields