Nearly 80% of Business Activity Is Disrupted By Coronavirus
A new study on coronavirus business disruption shows that while every industry has been gravely impacted, some, like tech, are faring better than others.
Cascade Insights' survey reveals how the crisis is affecting business operations across company sizes, sectors, and job roles. (Hint: no business type, size, or function is immune.)

New Data on How Novel Coronavirus Is Disrupting Business
We're now several weeks into the pandemic, which means that you've read approximately ten million articles about the infectiousness (a.k.a., R0) and estimated lethality (a.k.a., case fatality rate) of coronavirus. You've also seen the socio-economic impacts. Bars and restaurants have closed, unemployment filings are spiking, and social distancing abounds.
As a market research firm focused on B2B tech, we decided to study the impact on business activity.
278 respondents were sourced from LinkedIn using our organic sourcing method to ask how COVID-19 is disrupting their business operations. While people participated from all over the world, most respondents (roughly two thirds) were from the US.
This survey was fielded March 18-20, 2020 – the week that San Francisco issued a shelter-in-place order and NYC significantly ramped up testing.
More than half of respondents report total or moderate disruption of business activities.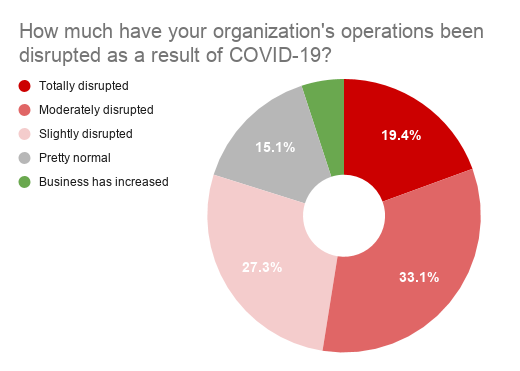 Since we're already in a recession, it's no shock that COVID-19 is significantly impacting business operations.
The majority of respondents (79.8%) reported a degree of disruption of business activities. Just over half (52.5%) of respondents reported moderate or total disruption.
Companies are experiencing disruption regardless of size.

Analyzing the data by company size surprised us.
The 2008-2009 recession taught us that SMBs and mid-markets often feel the immediate impacts of a recession much faster than other organizations. Usually, SMBs and mid-markets feel the pinch of reduced cashflow much faster and have to be more nimble to adapt.
Larger enterprises tend to live in an alternate economic universe. At the turn of the fiscal year, budgets and planned activities are locked in. While they feel the impacts in their stock price, it's much harder to turn an aircraft carrier than a dinghy.
In a "normal" recession, you'd see SMBs suffer most, and enterprises would seem almost oblivious at the start. However, COVID-19 doesn't care about your market cap. Whether your team is 10 or 10,000 strong, you have to figure out how to make your business function without a stable supply chain, a bustling office, and a historic slump in consumer and business demand.
Manufacturing took the hardest hit. Sectors that can work from home fare better.

All industries surveyed are experiencing disruption. Here is what the data suggests to us.
Being prepared to work remote is life-or-death for business operations. Absent fully automated operations, manufacturing screeches to a halt without the option of in-person work. We've seen from our prior research that the government sector is also poorly equipped for remote work.
Not surprisingly, healthcare was the most likely of all surveyed sectors to report an increase in business. As ICU utilization spikes, elective procedures are postponed, and hospital CFOs struggle to forecast their financials, healthcare is likely to report even more severe disruption. Hiring for the healthcare sector is also likely to significantly increase.
Professional service firms' ability to adapt will depend on the sector they serve. Professional services are well equipped to work from home. To list a few examples, lawyers, accountants, and market researchers can all work remotely. However, as their client base suffers, the pain will eventually flow uphill to these firms. Firms aligned with stable or growing sectors in this crisis (e.g., healthcare, logistics, etc.) will do better than those aligned with failing sectors (e.g., aviation, aerospace, etc.)
Primary materials consumers are the first to feel the disruption of global supply chains. Manufacturers are currently more impacted than retail / consumer packaged goods (CPG), as they adjust down their production and predict limited supply of primary commodities. We would expect disruption in retail / CPG to increase over the next few weeks, as their supply chains are impacted and brick-and-mortar operations are curtailed. The outlier is likely to remain grocers and other sellers of essential goods.
Note: "Other Industries" includes responses from hospitality and tourism, aviation, logistics, and other industries that didn't have enough respondents to be statistically significant.
Tech is less disrupted than all other sectors surveyed. But it still faces grave challenges.
While the least impacted of all sectors surveyed, 36.4% of tech has been moderately or totally disrupted. We suspect tech has experienced less severe disruption due to an inherent preparedness for remote work.
Still, 36.4% moderate or total disruption is not insignificant. More than a third of the tech industry is experiencing serious obstacles for business operations.
IT roles struggle to ensure business continuity.

Of the professionals surveyed, IT roles were the most likely to report significant disruption.
This is a terrible time to work in the IT department at any company. After spending years pitching your leadership on setting up VDI, VPNs, eschewing desktops for standard-issue laptops, moving off of legacy communications tools and onto something more modern, your wish has finally been granted. The catch? You have to do it all immediately, with no time to prepare. Zoom, Webex, Teams, Slack, and other communications tools have seen record usage and new client uptake in the past few weeks. We expect this to continue.
Sales roles are experiencing major disruption.
This is a difficult time to work in sales. One-third of the salespeople that we surveyed reported total disruption- the highest percentage of any surveyed role.
Buying committees are large for B2B purchases. Given most of these committees are no longer in the same building (or campus), sellers should expect delays in client-side decision making, or outright cancellations of deals in the pipeline at worst.
Marketing and operations roles report less severe disruption.
Disruption has reached operations and marketing roles as well. More than half report total or moderate disruption. These roles are less likely to report significant disruptions than IT and sales, and far less likely to report total disruption than sales.
At the moment, this makes sense, as marketing can continue to plan and strategize without direct buyer interaction. Unfortunately, things are likely to get harder for these roles. As the recession takes firm hold, lead counts will fall. This disruption in the buyer's journey means marketing teams will be forced to adjust tactics, strategies, and perhaps team size.
More than a quarter of product roles report normal or increased business.
On the other end of the spectrum? Product, which keeps on building with 25% reporting "pretty normal" business activities and 3.1% reporting that business has increased.
Hard times for leadership roles.

While the front lines of the business might not be aware of it yet, there's significant disruption happening at the leadership level. Social and economic uncertainty looms large in the eyes of decision-makers, and they're postponing their decision-making commensurately.
No business is immune from COVID-19 disruption.
The results of this survey confirm what we've all been witnessing: COVID-19 is causing massive economic turmoil. We're still in the early phases of business implications, but so far we're seeing:
The pandemic situation is disrupting nearly 80% of business, regardless of company size.
It is especially damaging to businesses reliant on global supply chains and in-office workforces.
While the rank-and-file of organizations still have clear directives to finish what's on their plate, leadership is at a standstill.
---
This study was conducted by Cascade Insights, a hybrid market research & marketing firm specializing in the B2B tech sector. If you have any questions on this research, feel free to reach out to us at hello@cascadeinsights.com
Get in touch
"*" indicates required fields