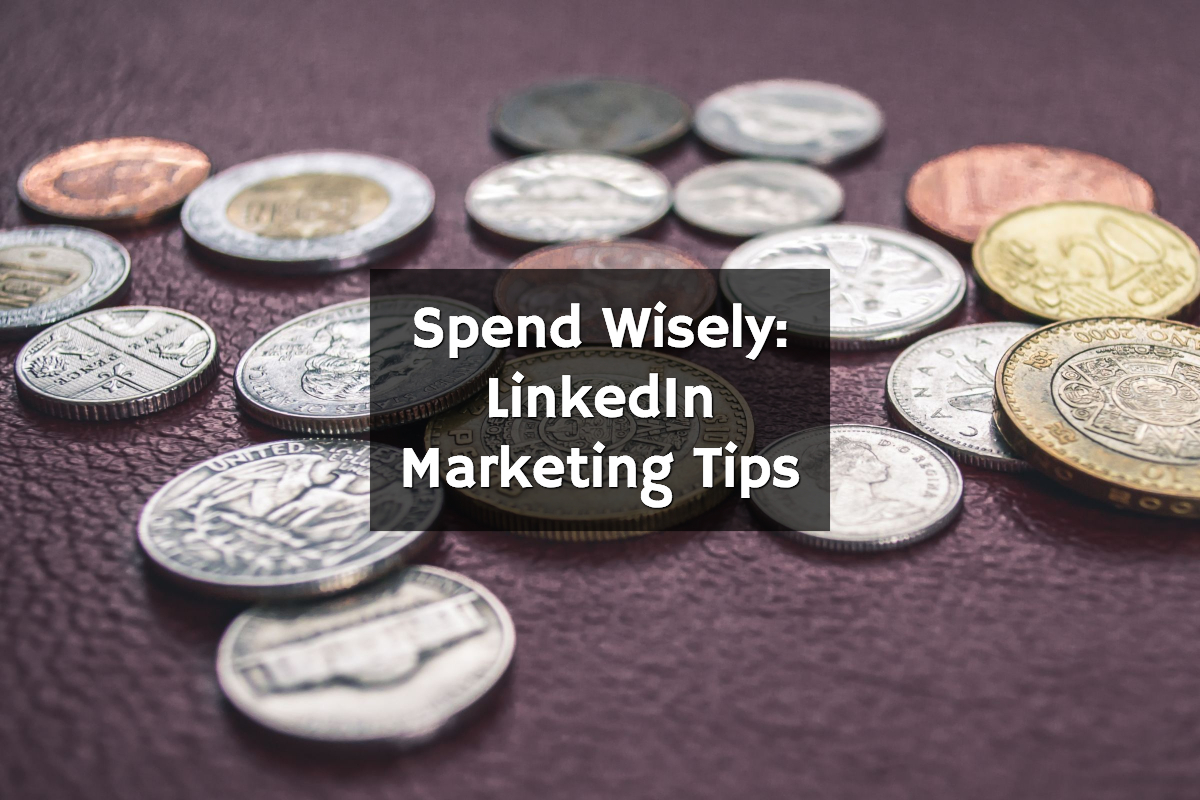 Spend Wisely: LinkedIn Marketing Tips
The lure of LinkedIn's vast amount of business data makes it an attractive advertising asset… if you know what you're doing. Ill-informed LinkedIn marketing campaigns can cost you big-time.
On this episode of the B2B Revealed Podcast, Cascade Insights CEO Sean Campbell interviewed B2Linked Founder AJ Wilcox on how best to leverage LinkedIn to reach B2B audiences. B2Linked is an advertising agency that specializes in LinkedIn ads.
The key benefit of advertising on LinkedIn is its business targeting capabilities. "Here's the dirty secret of LinkedIn: they absolutely have a monopoly on business data," Wilcox said. "You can target people by their job title, by what department they sit in, their level of seniority in the organization, individual skills they have listed in their profile, groups they are members of, their education level, what degree they got, what school they went to, their company size, their company name, company industry. It just goes on and on."
When Should You Spend On LinkedIn?
LinkedIn advertising is rather pricey though. For this reason, it's not always a great fit for companies' advertising goals. LinkedIn advertising is worth it, Wilcox said, if the target audience is shaped by some professional criteria and the transaction or relationship the ad is designed to prompt is worth thousands.
"You've got to make a lot of money off of the deal to make LinkedIn worth it. The reason why is because clicks on LinkedIn usually cost somewhere between about $6-9 on average whereas similar clicks on Facebook might cost $.80-1.50," said Wilcox. "The line in the sand that I draw is if you're going to make $15,000 or more from either the lifetime of the deal or that initial deal size, then LinkedIn's an absolute no-brainer."
Which Type of Ad Is Right For My Campaign?
Sponsored Content
LinkedIn offers a variety of advertising options. Wilcox favors sponsored content, the ads that run in the LinkedIn newsfeed. "These work really well because they are the highest interaction ad that LinkedIn has," he said. "By "highest interaction" I mean on average, about a third of a percent of every time it's shown it's going to get clicked on."
Text Ads
Text ads, Wilcox explained, show up far less frequently and are only visible from desktop. The latter may be an asset if the landing page your ad directs to doesn't look great on mobile. But, think carefully before investing in text ads when sponsored content boasts much higher engagement.
"[Text ads] have a much lower, like 12 times lower, engagement rate," Wilcox warned. "In order to drive enough traffic and leads from that ad unit to even make it worth running, you have to have a really big audience you're going after.
InMail
Whereas sponsored content and text ads charge a cost-per-click, sponsored InMail has a fee-per-send. "There's no guarantee that someone's going to open it, let alone click on it, let alone convert. You're going to pay just for having it in their box," Wilcox cautioned.
But sponsored InMail does have its benefits. "A really cool factor here to keep in mind is that once you send someone an InMail, that LinkedIn member is ineligible to receive another one for 60 days, a 2-month period," Wilcox said. "You know that none of your competitors can steal that inventory from you for a whole two months."
The key to a successful InMail campaign, Wilcox explained, is an enticing offer. Beware, whitepapers and e-books won't cut it.
Tailor the offer specifically, and keep it interesting. You don't want to be mistaken for spam.
"The offers that we've found work really well are things like employment. "We want to reach out to you and ask you to apply for this position because you look like a good fit," Wilcox said. "Or, "There's an in-person event that we want to personally invite you to," or, "Because of your standing in the industry, we're really curious about your thoughts around this new platform. We want to give you free access to it." Those types of offers are really, really attractive, and are probably going to get someone to engage."
Become A LinkedIn Legend
Listen to the full-episode for how to get the audience, message, & offer right, gauging the success of the ad, and best practices for images and links.
Download the free 8-point checklist that B2Linked uses for LinkedIn advertising campaigns.
The B2B Revealed Podcast is brought to you by Cascade Insights, a market research firm specializing in B2B technology. Need more B2B brilliance? There are many ways to follow us.
Get in touch
"*" indicates required fields